Two trainee's from the Swedish Transport Administration and one trainee from France visited the province of Utrecht to learn more about our work with bikes. With focus on behaviour change and bike stimulation. They wanted to learn what we (#033opdefiets) are working with and on.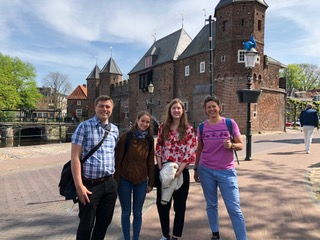 "We met Jocelyn Kemker – de Kruif, community manager from #033opdefiets in Amersfoort. The #033opdefiets is working for more biking I Amersfoort and Leusden. They are involved in different activities throughout the year. One example is a biking festival, another is a "thanks for biking"-event. The latter is a pretty straight-forward way of encourage biking by handing out small gifts to people on bikes. That's also a way to influence the non-bikers to when the word gets around, for example make parents explain to their children why they didn´t got a gift because they were driving. A small influence measure without writing on their noses.
The organisation seems to have the form of a network. It's a way to connect people from different communities or segments of the community that otherwise wouldn't talk to each other and a way to acknowledge the ideas and facilitate their realisation. They call it to curate and create content. This seems to be the strength of the organisation, to be a platform for community involvement and make good use of initiative that grows at the grassroots. When your neighbour is involved it's easier to accept and eventually get involved yourself.
The operational part of the organisation grows when there's need for it. If a project needs communication knowledge, event planning or other skills there are people in the network that are able to do that. The organisation supports people with ideas and want them to grow with their own task. If you have an idea that suits the mission for the organisation and it´s a reasonable cost the organisation will support you in realising it. With the network structure it's easy to get in touch with other people that can take part and do their bit in making it come true. This way you don´t know where this will lead to other than encourage biking and activating the community. People will experience that they have ownership of the projects when both the initiative and its realisation emerges in a bottom up process. Furthermore it's cost efficient use of tax money. This means it´s a win for the cyclists, other people in the city and the community as a whole.
Even when there are less energy from the people in the network they try to have an ongoing dialog with the community. When you convert a motorist to a cyclist he or she have the potential to be a bike ambassador. By trying to create bike ambassadors you get a larger impact from a smaller investment. For example by convincing a person to try commuting by bike for a week by lending them an e-bike, you might get a living billboard saying you too can go to work by bike.
We went on a tour in Amersfoort. We saw preparations being done for Kings Day with temporary bike parking because of the large number of bikes expected. We looked at a rebuilt bridge and street to adapt it for less cars and more biking. Reducing parking spaces for cars opens up space in the narrow streets of the old city centre. When more people take the bike down town it creates new problems with bike parking. When on a bike you usually want to park just outside the shop you want to visit but that creates problems for pedestrians and shop owners. With permanent parking solutions bikes tend to be parked for longer times. The city wish to solve this with parking spaces on side streets and a parking garage free of charge.
Some short lessons from the visit:
It takes time to build trust and affect behaviour.
Make good use of the energy that is in the community to build momentum.
Triple win is possible with broader goals of encouraging biking and community involvement.
Every solution creates new problems, think ahead and adapt the solution to manage future problems. "